TEAM ::: CLEARWATER THRESHERS
LOCATION ::: CLEARWATER, FLORIDA
MY FIRST VISIT ::: MAY 28, 2009
OPPONENT ::: CHARLOTTE STONE CRABS
LEVEL ::: FLORIDA STATE LEAGUE 'A'
ALSO ::: SPRING TRAINING HOME OF THE PHILADELPHIA PHILLIES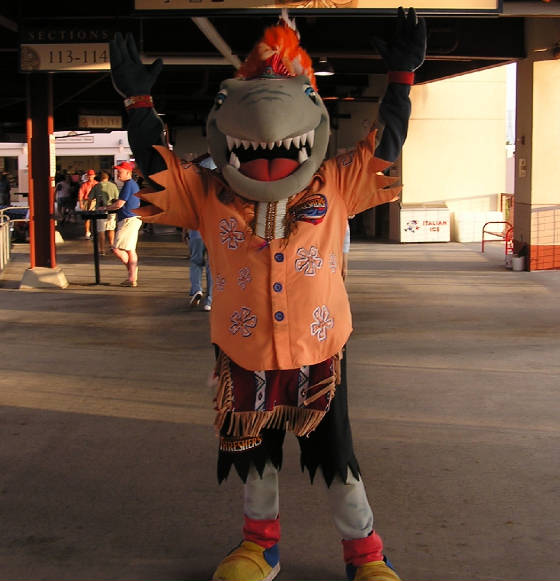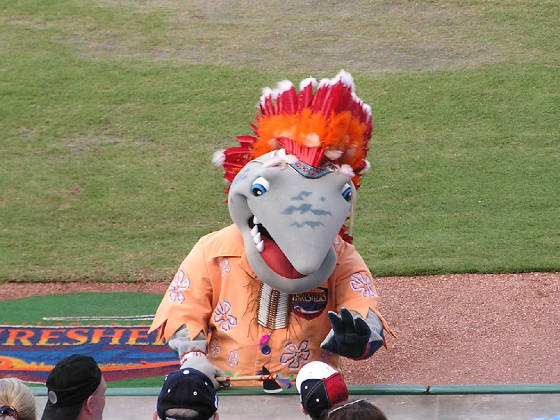 RATINGS
BALLFIELD ::: A+
SCOREBOARD ::: B-
FOOD ::: A
FACILITIES ::: A-
MASCOT ::: B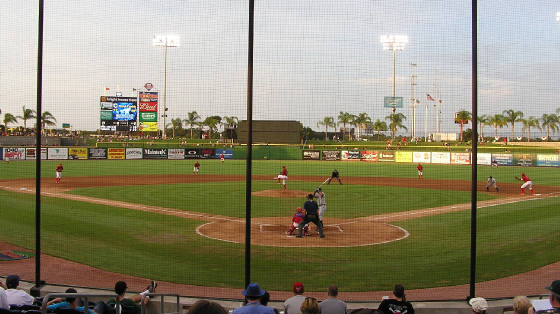 MY TAKE ON THE PARK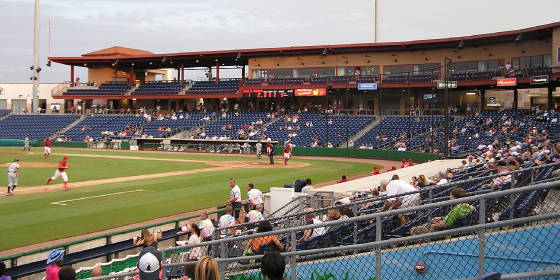 My experience with the Florida state league is pretty limited, however, in my limited experience I've seen that the parks are generally old and the crowds are usually small. What a surprise it was to show up at Bright House Field and see a modern facility with staff that was schooled in the area of Customer Service.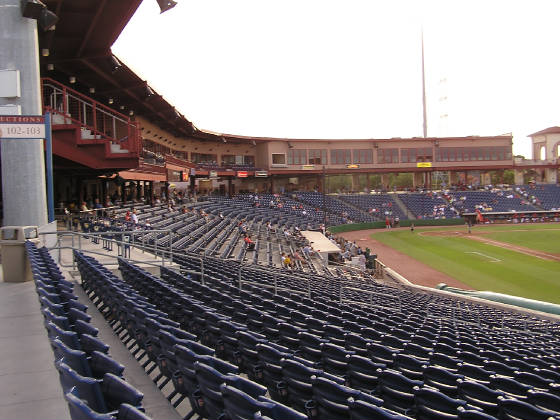 Parking at for the Florida State League game is $3, but when you walk in they hand you a game program. There is a paved lot but also a grass lot, on my visit when there were about three thousand at the park and they put me on the grass, I am guessing for the Spring Training games they park you in the Joe DiMaggio Park across the street.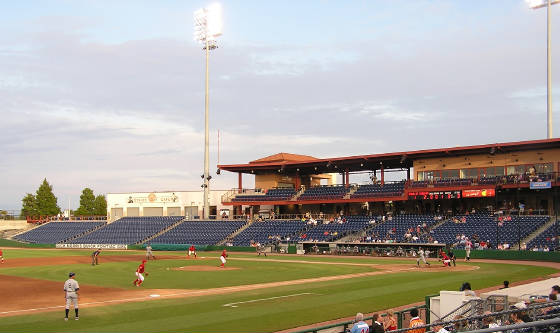 Once inside I was reminded of two parks immediately, Lakewood and Greensboro.
Like Lakewood, the park has a walkway where you can do a 360 around the park, I'm always a fan of this feature.

Like Greensboro, the park has a bar in left field, when looking at the pictures just know that the empty seats were empty because a majority of the fans were seated at the Tiki bar in left field. I have a feeling left Field bars are going to be popping up at more and more parks, people really get into seeing the game from the left field bar.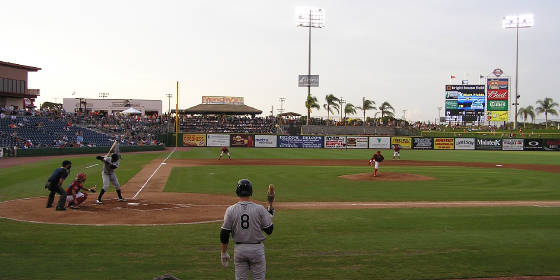 As for the game, it is handled pretty well here in Clearwater. The between inning promotions are few and quick and the field is in perfect condition. There is only one scoreboard and that just gives the current batter and no further updates. The board is clear and easy to read though.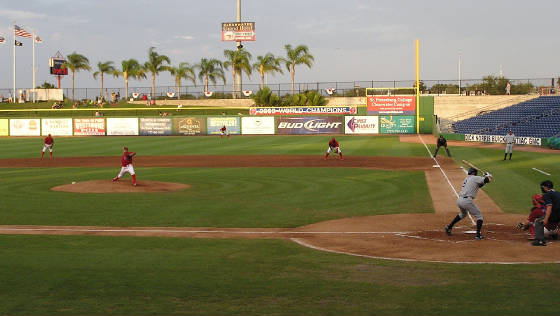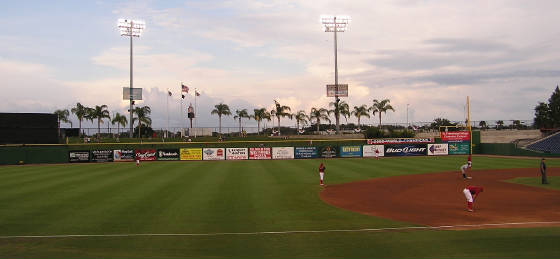 Looking around the park, the palm trees in right field make for a relaxing evening in Clearwater. The Tampa Rays are about 1/2 hour away but after spending a day at the beach and in the sun, why go indoors to watch a game? I highly recommend a trip into Clearwater for an evening with the Threshers.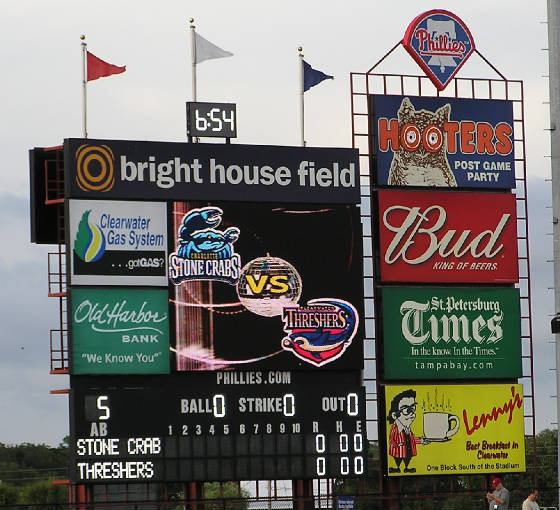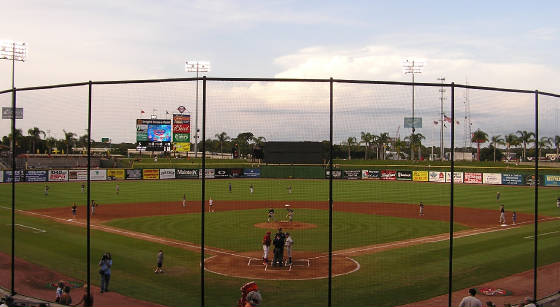 THE LINE UPS
Charlotte Stone Crabs manager :::
2 Jim Morrison
Cleawater Threshers manager :::
12 Ernie Whitt
CHARLOTTE STONE CRABS
5 Emeel Salem cf
3 Shawn O'Malley ss
31 Nevin Ashley c
34 Matt Fields 1b
8 Gregory Sexton 3b
17 Reid Fronk rf
4 Shawn Williams 2b
21 Ryan Royster dh
19 John Matula lf
26 Jesse Darcy p / LP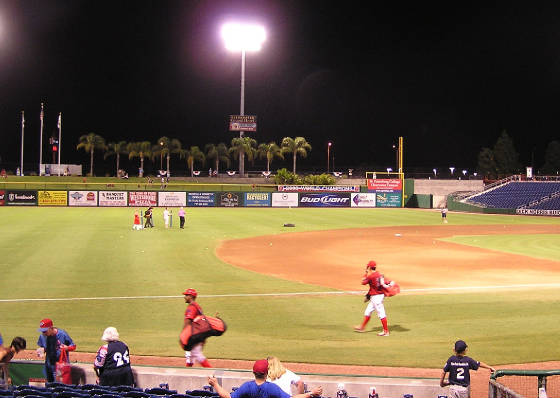 CLEARWATER THRESHERS
25 Javis Diaz cf
4 Fidel Hernandez 2b
3 Dominic Brown rf
23 Tim Kennelly lf
62 Matt Rizzotti dh
61 Michael Durant 1b
29 Joel Naughton c
5 Cody Overbeck 3b
34 Jesus Villegas ss
16 Michael Cisco p / WP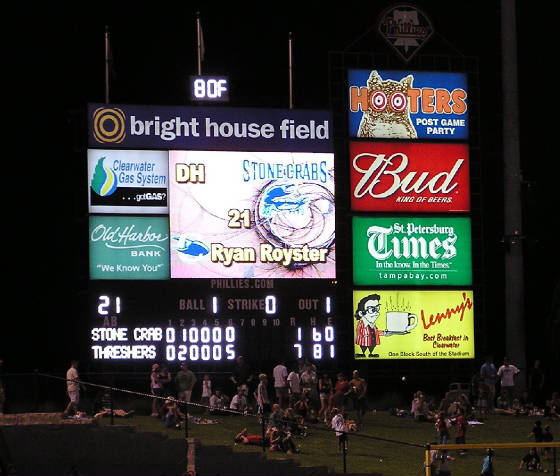 STONE CRABS 010 000 000 1 8 0
THRESHERS 020 005 21x 10 14 1
TIME ::: 2:28
ATTENDANCE ::: 2,771
WEATHER ::: 81 VERY HUMID, CLOUDY
SEND ME AN E-MAIL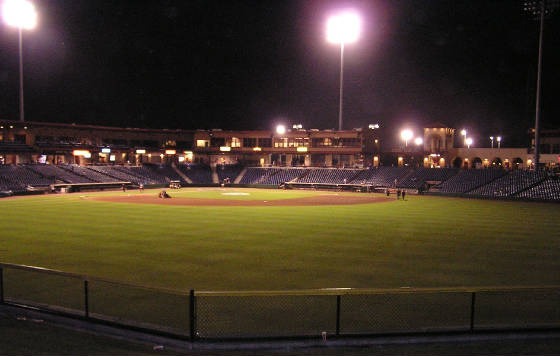 LINKS
The Official web site for the Clearwater Threshers
The Official web site for the Philadelphia Phillies
The Official site for the city of Clearwater
Where it started - The Original Hooters
Clearwater weather from WEATHER.com
Page last updated :::

© 2000-2012 UNCLE BOB'S BALLPARKS
I AM IN NO WAY AFFILIATED WITH ANY OF THE TEAMS ON THIS PAGE ... THIS PAGE IS MEANT FOR INFORMATION PURPOSES ONLY.